EKLUND INFRARED Turreted EO/IR/UV/Laser Gimbal Systems are of highest technical sophistication and durability. We can make special order gimbal configurations (200-300-400) for special cameras and other payloads.

Please contact us for current pricing and delivery.

Please call us for the latest information and pricing on Airborne Gimbal Camera Systems

Airborne Gimbal Camera Rentals!

Please contact us for Rental of the 400Quad 4-axis Stabilized Airborne Gimbal Camera System with Calibrated Infrared Camera, DayCor® Corona Camera, Sony HD camera plus a NIKON 36 Megapixel DSLR Frame Camera.

Limited rental of full system is available!

We also have the DayCor® Corona Cameras available for rental and purchase!

A SweSystem 300Triple is available for sale! Please contact us

Click on picture for a PDF copy!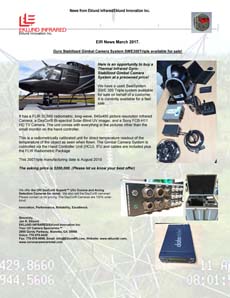 Recent Eklund Innovation Special Design Gimbals delivered:
Multiple EIR300 with a GPS enabled Nikon D810 36 MegaPixel Still Frame Cameras with GPS info in each picture header and Remote Controlled Motorized Optical Zoom for the Nikon Lens.
EIR400Triple Nikon with LWIR, Solar-blind Corona, NIKON DSLR.
Eklund Infrared/Eklund Innovation Inc. is a 100% American owned company. All employees are citizens of the USA. The controlling interest in Eklund Infrared/Eklund Innovation Inc. is American and is located in the USA.

---
Home Contact Us © Copyright 2000-2018 by EKLUND INFRARED. All registered Trademarks and trade names are acknowledged to be the property of their owners.