Thank you for visiting our Eklund Infrared Website!
Home of DayCor Solarblind Corona Camera Sales and Rentals!
The DayCor Camera continues to be the absolutely preferred UVc Solarblind Corona detection tool for the Detection of Electrical High Voltage Corona, Arcing, Partial discharge and micro arcing.
We rent out the DayCor Superb Ultra-Sensitive UVc Corona Detection Cameras on a weekly basis!
Conserve Purchasing Cash and rent a Camera from us!
Download our Rental Camera Specifications as a PDF Document
To detect and find electrical Corona and arcing events, we can offer you the perfect camera! Purchase outright from us or to Conserve Purchasing Cash, we have the DayCor Corona Camera available for rental!
The DayCor Superb is the most sensitive Corona Camera available. It is equipped with the proprietary Ofil-Lindner Solar blind Bandpass filter that only let the Corona UVc through! The filter eliminates all interfering solar UV radiation. This produces an extremely quiet solar noise background making the use of max sensitivity possible. The DayCor Camera detects the weakest Electrical Corona radiation.
We only rent the highest sensitivity corona camera available. Use it and find and pinpoint corona sources with ease.
The DayCor Superb has more than twice the sensitivity compared to the next competing Brand.
Why use a camera with lower sensitivity and miss dangerous UVc radiation detection when you can call us and rent our DayCor Superb with the highest UVc Corona detection performance in the world!
Do not miss damaging Corona using a lesser camera!
Both of the two current DayCor Superb models have the newest keyboard. The Superb keyboard is large and easy to use. It has direct access to the functions that you use most. No need for accessing a menu tree when you just want to change i.e. the gain setting. Direct access to video recording and snap shot picture taking.
Fast continuous Auto-Focusing System makes it a breeze to inspect for Corona emission radiation.
The DayCor Superb PD Camera has:
The Highest UV sensitivity: 1.5x10-18 watt/cm2 Tested and Certified
The Best minimum discharge detection: 1pC@15 meters
The Best minimum RIV detection: 3.6dB microVolt (RIV) @1MHz @10m All values certified by testing laboratories!
The DayCor Superb is 100% SolarBlind even at high sensitivity settings tested in real life looking right at the sun.
Absolutely ZERO Solar UVc Detected

We have DayCor Corona Cameras Available For Immediate Rentals! Please Contact Us

Key Features:
Highest Sensitivity Corona Camera Available. 100% Solarblind for full daylight operation. Ofil Proprietary UVc Filter!
Exceptionally High sensitivity even at distance. Better than 1.5x10-18 watt/cm2 .
Detect and display Corona Emissions as weak as 1pC at 15meter distance
LCD Display Viewer that is ideal for sunny outdoor inspections and for sharing images with team members
On-board storage via Compact-Flash Card
One touch digital on-board color video recording onto SD card with included voice annotation.
Playback on-board function for images and videos.
Built-in High Speed auto-focus system!
Snapshot still picture recording using touch key
One-touch button functions operations; no need for menu browsing!
Made for inspection under any light and weather conditions
Integration mode for increased gain and reduced background noise
CERTIFIED the most sensitive Bi-Spectral Corona Camera available.
Blob counting and numerical display for evaluation of the corona strength
Easy to use with ergonomic design for effortless full day use.
Integrated high-brightness, Trans Reflective adjustable color 5 inch LCD viewer designed with safety in mind (no eye viewfinder needed) and made large enough for all team members to view.
The Electrical Power Research Institute (EPRI) in the US helped to support the development of the DayCor UVc-Visible Bi-Spectral Imaging System.

This year (2023) is the 21st year Anniversary since EKLUND INFRARED Inc. introduced and made the DayCor 100% SolarBlind Corona Cameras commercially available on the US market. The first Model was the DayCorII! We now rent out the Flagship DayCor Superb OD. Download specs below!

Eklund Infrared Inc has been your OFIL DayCor Representative since 2002

The use of the DayCor cameras has helped to find, pinpoint and eliminate damaging Corona on overhead lines and in substations throughout the US and the rest of the world. Our Cameras help keep our Electrical Grid safe!

EKLUND Infrared Inc. was the first and only Authorized Service Center in the USA for the whole line of OFIL UVc Cameras!

When you are in need of a DayCor Camera, Please contact us for purchase or Rental. Ask us for a price quotation. Let us know the length of time of your rental. We can accommodate most long term rentals.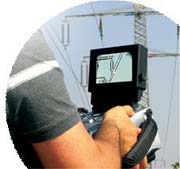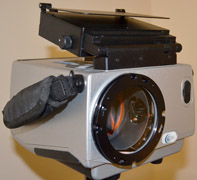 Our DayCor Superb Rental Camera Systems
Download our Rental Camera Specifications as a PDF Document
The Solarblind Ultra Violet (UVc-band) Corona and Arcing Inspection is a Solid Detection Technology for Electric Utilities to Pinpoint High Voltage Problems. Also for use by other companies with High Voltage Applications.
It is a complementary technology to the Thermal Infrared heat detection and is superior to the Ultrasonic technologies.
Electrical Corona Detection is not dependent on the current (I) loading of a circuit or line. It detects the Corona event due to the breakdown of the High Voltage electrical field on components due to contamination, faulty insulators or missing Corona/Grading rings etc.
Detection of Electrical Corona, Partial Discharge and Arcing problems is one of the very important means available to improve the reliability of the Electrical Grid and its components.
Contaminated High Voltage Insulators and Bushings can lead to flash-over and downed circuits. We recommend that you use our DayCor Superb UVc Corona Camera to confirm the need for washing and to prove that the wash was effective! These video clips show a highly effective wash!
Below is shown extemely serious Corona Discharges on 35 kV High Voltage cabling in an indoor substation. The failing insulation everywhere makes this a very dangerous situation!
This Inspection/Recording was made by Eklund Infrared by Jan Eklund. This was an extremely dangerous location and a full flash protection insulated suit was needed in this tight area of the substation!
The Indoor Substation was subsequently completely rebuilt
The state-of-art DayCor UV Corona camera is capable of detecting Electrical Corona and Arcing phenomena and pinpointing their sources under all lighting conditions, even on the brightest day. It is 100% Solarblind!
.
**************************************************************
The DayCor SUPERB UV Corona Detection Cameras are available for rental on a Daily, Weekly or long term basis.

Eklund Infrared/Eklund Innovation Inc. is a 100% American owned company. All employees are citizens of the USA. The controlling interest in Eklund Infrared/Eklund Innovation Inc. is American and is located in the USA.
---
Home Contact Us © Copyright 1999-2023 by EKLUND INFRARED. All registered Trademarks and trade names are acknowledged to be the property of their owners.